Viewing posts from: February 2021
Posted by Jo Love in Care Home WiFi, News, Nurse Call | 0 comments
16.02.21
It has been a busy few weeks for GHM's engineers, always adhering to strict Covid guidelines of course. It's always great seeing a home looking so stunning on completion. Here is the beautiful Elsyng House, part of Oakland Care in Enfield, where a phone system, WiFi & our Nexus solution was installed in a Covid safe environment.
Posted by Jo Love in News | 0 comments
03.02.21
Last year, we shared a BBC news report showing an innovative way one of our customers is keeping family visits possible through the pandemic, in a Covid-secure environment. As well as assisting residents to communicate via tablets connecting to the WiFi, Hamberley Care Homes have gone a step further and set-up 'Visitation Suites'. The suite has a separate external entrance, pre-temperature checks and health screening, plus a rigid cleaning process between visits.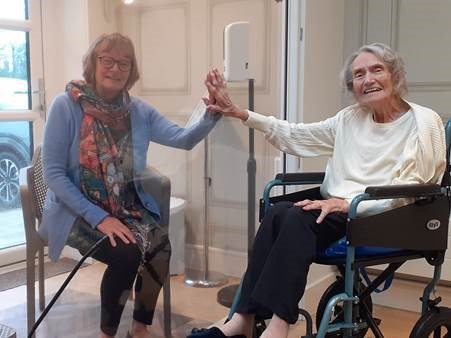 Once inside the suite, a clear screen from floor to ceiling keeps the resident safe, with GHM supplying hands-free desk phones on both sides. The set-up allows families to have a good old catch-up as they would normally without the need for specialist equipment. Simple yet effective communication solutions make Covid restrictions a little easier to cope with in these challenging times. And to prove that modern technology doesn't always need to be complicated, Hamberley were delighted with the retro style GPO handsets GHM installed in Reception phone boxes. Those of us of a certain age miss those rotary dials to make calls, now possible again at Hamberley Care Homes. For further information on GHM solutions, please contact our dedicated Care Sales Team on 01865 367111.