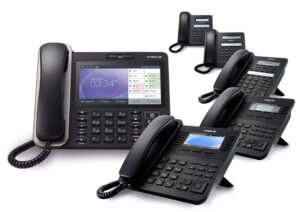 GHM Care is ideally placed to address the challenges and opportunities presented within the care home. Our solutions are delivered through partnerships with global telecom companies, renowned for their quality and reliability.
Our business telephone systems are modular and scalable, they can be expanded and enhanced with the latest technology, from IP telephony, converged voice and data networks. Having such flexibility helps keep the cost of deployment low and future proofs every solution, which protects your investment in our equipment.
We truly believe that programming a phone system to accommodate admin and care staff preferences is the best way to boost productivity, control cost and embrace new technology. We also make it easy to integrate smartphones, enabling fixed and mobile staff to communicate efficiently. See Smart Technology
Also not forgetting residents, we provide resident rooms with live phone sockets connected via the phone system. So, if required residents can make free UK phone calls. This avoids the residents paying for BT installation & rental fees. We also make it possible for residents to bring their existing telephone number with them when they move.
All solutions include staff training, corporate control of features and functions and a support contract. We can also offer a backup solution should there be a power cut to the site.
Key Facts:
The system can be configured to accommodate 4 to 480 extensions at a single site and combined to link 100 sites.
We offer a wide range of handsets both IP and digital, depending on the needs of the individual or department.
For staff who need to work flexibly, the system allows users to work from any location using VoIP.